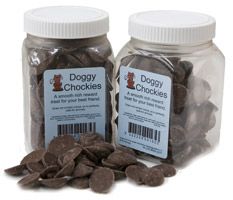 Doggie Chocks (225g)
Doggy Chockies are a great reward for your dog, and for you too! These carob buttons can be used as a training aid, or simply as a snack to spoil your dog.
Incidentally, the reason these treats are made from carob is because chocolate contains a nerve poison that is toxic for dogs. Whilst a relatively large amount of chocolate is required before poisoning occurs, it is far better to be safe than sorry.
Reviews